Bennett County, SD Land for Sale
In close proximity to strong regional markets, the Bennett County Farmland presents a remarkable opportunity to purchase highly productive crop land! 
Location
Bennett County, Martin, SD
Locale
Martin is the County Seat for Bennett County and offers many agricultural and service-related businesses, such as feed mill, hardware store, implement and vehicle dealers, livestock auction, medical facility, restaurants, schools, as well as all the county government and USDA offices. Several grain storage and delivery systems are also located in the area. The property also lies near the famed LaCreek Wildlife Refuge, a 16,000 acre enclave of big game and waterfowl.   
Operation
This crop land has been farmed by the same operator for the past decade and has benefited from exceptionally good husbandry. Cropping history has included corn, soybeans, sunflowers, chickpeas, oats, barley and wheat. Annual rainfall data for Bennett County indicates average annual precipitation to be from 18.6 to 20.36" depending on location.  
USDA information indicates 626.23 acres tillable (97.84%) with DCP Base Acres of; Wheat – 171.15, Sunflowers – 258.65, Grain Sorghum – 43.92
Wildlife
Wildlife in the area is plentiful including white-tailed deer, pheasants, grouse and coyote. 
TOPOGRAPHY
The property is level to gently rolling with slopes of 0-2% and 2-6% slopes providing exceptional drainage with minimal chance of erosion.
SOILS
The soils on the property are comprised mostly of Keith-Rosebud and Keith-Richfield silt from 0-6% slopes with Crop Productivity Indexes of 82-89.
Water
There are no wells currently located on the property. Wells in the vicinity range from 40' – 100′ in depth.
Utilities
Electricity services in the area is provided by LaCreek Electric Co., headquartered in Martin   
Lease
The property is currently under Lease Agreement to a well–established area farmer. The rental rate is set at $64.00 per tillable acre for 2023 and $65.00 for 2024. The Lease expires 12/31/24.  
Access
The property is accessed via well maintained Bennett County gravel and the parcels range from .5 mile to 1.5 miles from US Hwy 18.
Taxes
The 2022 real estate taxes on the property were $5,967.32
Legal Description
Township 37 North, Range 38 West, 5th Principle Meridian, Bennett County, South Dakota 
Acres 
Section 24: SW1/4 160  
Section 27: NW1/4 160  
Section 28: NE1/4 160  
Section 36: SW1/4 160 
Total 640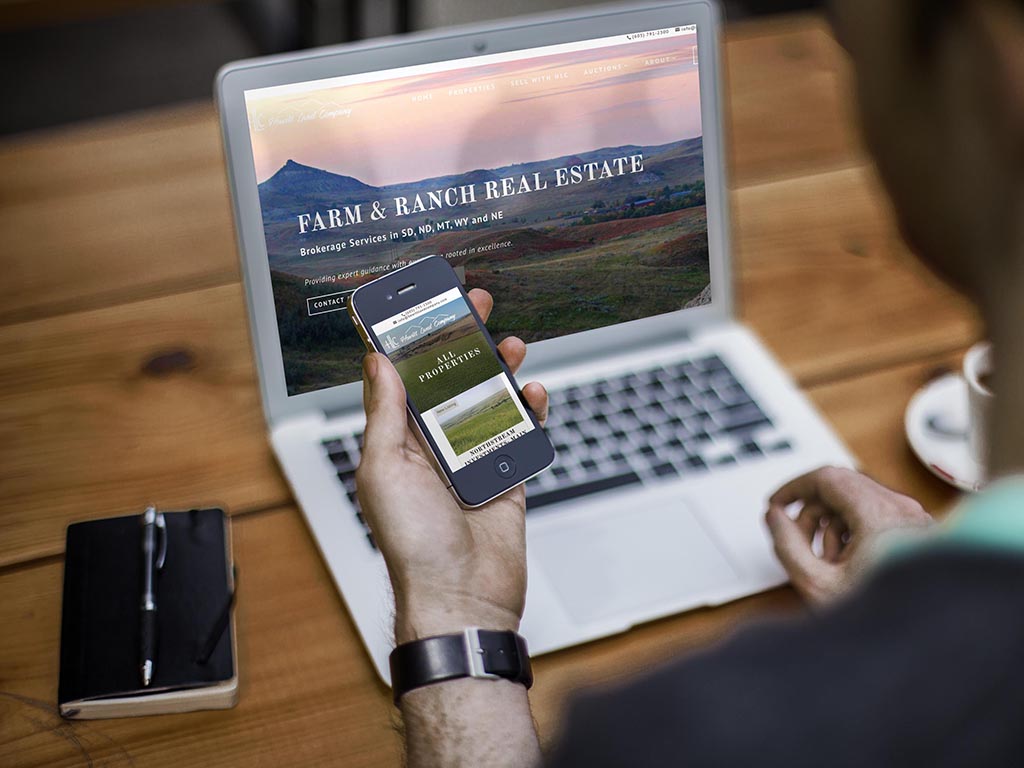 Ask a Question or Schedule a Visit
The information provided by Hewitt Land Company has been obtained from sources deemed to be reliable, but is not guaranteed or warranted by Hewitt Land Company or the sellers of these properties. It is the responsibility of the prospective buyer to independently confirm the accuracy and completeness of this information. Prospective buyers and advisors are encouraged to do their own due diligence in regard to tax, financial and legal matters, and to determine the suitability of a specific property to the buyer's needs. This offering is subject to errors, omissions, prior sale, price change, correction or withdrawal from the market without notice. All references are approximate. Any projections, opinions, assumptions, or estimates used are for example only and do not represent the current or future performance of the property. Sellers reserve the right to accept or reject any and all offers without liability to any buyer or cooperating broker. Fences may or may not be located along property borders.