ONLINE ONLY AUCTION!
OPENS FRIDAY JUNE 9 AT 10AM MST & BEGINS CLOSING AT 6PM MST ON MONDAY, JUNE 12.
Meade County, SD Land for Sale
Bidding opens on Friday, June 9 at 10am MST & begins closing on Monday, June 12 at 6pm MST.
SHOWING DATES: 
Wednesday, May 24 from 5:30-7:30pm
Saturday, June 3 from 10am-12noon 
Monday, June 12 from 1-3pm
All times are MST
Experience the perfect blend of luxury and rustic charm at the Highmark Estate – executive country living at its finest. Just minutes from Rapid City, this sprawling 40-acre property boasts remarkable custom details and expansive spaces for all your gatherings. Highlights of the property include soaring ceilings with timber beam and iron accents, a spacious open-concept kitchen with rich mahogany and granite finishes, two grand stone fireplaces (one upstairs and one downstairs), a beautifully crafted bar for entertaining, and a meticulously designed stone patio off the lower level. With seven bedrooms, eight bathrooms, and ample office space, the Highmark Estate offers the ultimate retreat for family, business, and recreation. 
HOME DETAILS
Total square feet of living space: 8,986
7 bedrooms / 8 baths / 1 office 
Main Floor:   Total main floor Sq Ft 3,829 
Foyer/Living area: As you enter the house, you'll be welcomed by high timber beam ceilings with black iron accents. The design style extends to the support beams on the main floor and the stairwell leading to the upper level. The foyer area is open to the living area with a coat closet and tile entry. The living room features a double-sided gas fireplace with a stone façade and chimney on both sides. Additional features include: 
Kitchen: The open concept kitchen is equipped with stainless steel appliances, including a large double door refrigerator, dishwasher, microwave, and gas stove on the island. Mahogany finish cabinets and granite countertops complete the elevated ranch style kitchen design. Additional features include: 
2 islands

 

Double oven

 

Commercial fridge/freezer

 

Gas 6-burner range

 

Garbage disposal

 

Mahogany cabinets with soft close doors and drawers

 

Large walk-in pantry with motion sensor light

 
Dining area: Open to the kitchen and living area, the dining area provides ample space for entertaining and is designed with a relaxed feel. Additional features include: 
Walkout door to back deck

 
Entry from garage: The mudroom entry from the garage offers convenient space for taking off dirty boots and quick access to a clothes washer and bathroom for emergencies. Additional features include: 
Washer/dryer

 

Garden sink with countertop and cabinetry

 

Bench with storage and coat rack

 
Master Bedroom: The main floor master bedroom is conveniently located off the living room and includes the following features: 
Double-sided gas fireplace with the living room

 

Laundry closet with washer/dryer hookups

 

Large walk-in closet with his/hers shelving and hanging racks

 

Ensuite with a freestanding tub, individual sinks and mirrors, large tiled shower with 3 showerheads, and a separate toilet with a door

 

Linen closet

 

Walkout door to deck

 
Additional main floor rooms: There is also a main floor bedroom with a full bath, another bedroom with hallway bathroom access, and office space. 
Garage:  32×48
4 Stall garage

 

Stairs to main floor and to basement 

 

Walkout door to back of house

 
Main Floor Deck: 
Natural Gas Hookup

 

Wood Plank Ceiling

 

Speaker system throughout the entire house, deck, and patio

 
Upper Level: Total square feet 1,328 
Two separate bedrooms each with walk-in closets and full bathrooms

 
Lower Level: Total square feet 3,829 
The lower level welcomes you with a large free-standing stone fireplace in the spacious recreational room. There is also a fully functional bar area custom built to accentuate the rugged sophistication of the home design. The lower-level space features beautifully stained concrete floors, and there is access from this space to the gorgeous stone patio with a built-in grill. Additional lower-level features include: 
Full bar with walk-in cooler

 

Open stone gas fireplace

 

½ bath with bidet and urinal

 

Walkout door to patio

 

Large utility room with ice machine, water softeners, heated floor controls, etc.

 

Laundry room with washer/dryer hookups, shelving, hanging racks, garden sink, and full bathroom

 

Small bedroom across from laundry room

 

Separate entrance from garage

 

Bedroom with large closet and ensuite

 

Theater room with projector, projector screen, and set of 6 reclining chairs

 
Lower-Level Patio: 
Open Gas Fireplace

 

Natural Gas Grill

 

Wood Plank Ceiling

 
Location & Directions
Location:

14665 139

th

Pl.

Piedmont, SD

57769
Directions from Piedmont: Drive East on MC-4/Elk Creek Road 5.7 miles, South on 139th 0.5 miles, enter driveway to the West.
Locale
The scenic Piedmont Valley stretches 25 miles between Rapid City and Sturgis. The towns of Piedmont, Summerset and Black Hawk are along the route, with Interstate 90 running through the Valley and the Black Hills National forest to the west. Rich in history, the town of
Piedmont dates back to 1890, with approximately 1,000 people residing in the immediate area. The town supports numerous small businesses in tourism, transportation, and construction. Piedmont boasts a highly rated Elementary School, and a newly-built Meade County middle school is just a few miles away. The area provides several churches and a vibrant community life.
Tourism abounds as the area is nestled in the Northern Black Hills region. Deadwood, SD is just 27 miles way, and Spearfish, SD just 33 miles away. Local resorts and campgrounds cater to vacationers, turkey hunters and outdoorsmen. Natural history attractions are nearby, as the property lies only 2 miles from the Black Hills Petrified Forest and the geology-rich Little Elk Creek Canyon, and just over 5 miles from the Wonderland Cave.
Rapid City is the second largest city in South Dakota and offers all types of shopping, fine and casual dining, medical facilities and industry. Regional flight service is available 30 minutes away at the Rapid City Regional Airport.
The greater Black Hills region is a treasure-trove of not only natural beauty, but tourism as well, averaging 4 million visitors annually. Ranked #1 by Forbes as the best state for business costs in 2019 and #1 by CNBC in 2021 for business friendliness, (https://sdgoed.com/build-yourbusiness/), SD is a business-friendly environment that encourages a secure economy, room to innovate and a reliable workforce.
Wildlife
Deer, antelope, grouse, and prairie dog are abundant in the area.
TOPOGRAPHY
The property is comprised of gently rolling hills.
Water
Private well with approximately 600' well depth.
Water
system is equipped with a standby Generac generator.
Utilities
Electricity
services
in the area is provided by West River Electric. Gas for this property is provided by Montana Dakota Utilities.
Taxes
The 2022 real estate taxes on the property were

$14,564.84
Legal Description
Norberg Highmark Estate
Township 3 North, Range 7 East, Meade County, South Dakota 
Acres
Section 16: NWSE 40
Total 40
Terms & Conditions
Terms & Conditions (Online Only) 
Please read and review the Auction Terms and Conditions thoroughly before registering to bid and placing a bid. If you do not understand the terms or have not read these terms, please do not bid. 
Placing a bid on any auction indicates acceptance of and agreement with the Terms and Conditions of this contractual agreement between the bidder and Hewitt Land Company. 
Bidding & Registration Information 
By registering as an online bidder, the bidder contractually agrees to comply with the Auction Terms and Conditions available on this bidding platform as well as at www.hewittlandcompany.com. 
Registrations for online bidders requires Auctioneer approval prior to bidding. 
Buyer's Agents must complete form prior to Bidder registration. 
Identity verification is a standard part of the bidder registration process. If identity verification is, in the opinion of Hewitt Land Company, questionable, Hewitt Land Company has the right to reject the registration, and bidding activity will be terminated. The Seller and Hewitt Land Company reserve the right to preclude any bidder if there is any question regarding credentials, mental fitness, et cetera. 
Bidders agree to keep their username and password confidential, as they are personally held responsible for any and all activity involving their account. 
Some auctions may require a credit card authorization to complete the bidder's registration, and if the bidder fails to execute an accepted contract or provide the required Earnest Money Deposit by the deadline provided in the Auction Terms and Conditions, his/her credit card may be charged. 
Online Use & Technical Issues 
Internet connections may be delayed or unreliable as the sole source of communicating a bid to the auctioneer. Neither the seller nor Hewitt Land Company, Inc., nor any associates affiliated with Hewitt Land Company, Inc. shall bear any responsibility for internet connections. For assistance in placing bids during the auction feel free to call one of the following phone numbers; Tanner Hewitt, 605-490-7952, Tyson Hewitt, 605-206-0034, or JD Hewitt, 605-347-1100. 
When using the online bidding website, the user agrees to obey any and all local, state and federal laws. Violations will result in termination of website use privileges. 
In the event there are technical difficulties related to the server, software, internet or any other online auction-related technologies, Hewitt Land Company reserves the right to extend bidding, continue the bidding, or close the bidding. Neither the company providing the software, nor Hewitt Land Company shall be held responsible for a missed bid or the failure of the software to function properly for any reason. 
Conduct of the Auction 
Successful bidders shall deposit 10% nonrefundable earnest money with the balance due in certified funds upon closing, on or before July 25, 2023. Property sells without buyer contingency of any kind. Have financial arrangements secured prior to bidding. Marketable title will be transferred by Warranty Deed, subject to easements, restrictions, covenants and/or reservations. A commitment for title insurance will be available for inspection prior to the auction. All 2022 and prior years taxes will be paid by Seller. The 2023 real estate taxes will be the responsibility of the Buyer. Auctioneers, Brokers and their associated staff represent the Seller's interest in this transaction. All information has been derived from sources deemed reliable; however, neither Seller nor the Auctioneers/Brokers are making any representations or warranties, actual or implied. Property selling "As-is where is". Inspect to the extent deemed necessary both on and off premises and use your own judgement when bidding. Announcements made at auction take precedence over any prior printed or oral representations. 
The property will be sold on a total dollar basis. Any bids received in the final 5 minutes shall automatically extend closing time of the auction to 5 minutes.  
Acreage figures are estimated based on information derived from mapping software and Meade County Equalization, however no warranties or representations are made by Auctioneers or Owners as to the accuracy thereof.  
Property sells subject to Seller confirmation. 
Owner: Norberg #10, LLC.  
The bidder acknowledges that if a bid is submitted during the auction, the bid may become the high bid and therefore obligate the bidder to purchase the tract(s) or parcel(s) at the bid price plus any relevant Buyer's Premium described in the auction materials.  
The minimum bid increase will be set prior to each auction. Bids will be recognized in the order received. In the event of a tie bid of a live/online auction between an internet bidder and a bidder on the floor, the bid on the floor will be given priority. 
Hewitt Land Company reserves the right to reject any and all bids for any reason. It also reserves the right to cancel an auction or remove any item or lot from this auction prior to the close of bidding. All decisions of Hewitt Land Company are final. 
Hewitt Land Company auctions are not timed events, except in the case of online only auctions. 
The winning bidder will be required to complete, sign and return the real estate contract without modifications or delay following the auction. The winning bidder will be required to provide the specified non-refundable earnest money deposit as stated in the contract. The purchaser will be responsible for any related fees. Should the winning bidder not comply within the stated time frame, he/she shall be held responsible. 
Both the winning bidder and Seller shall hold harmless Hewitt Land Company for any liabilities or expenses resulting from either Bidder's or Seller's failure to fulfill any obligations set forth in these Terms and Conditions.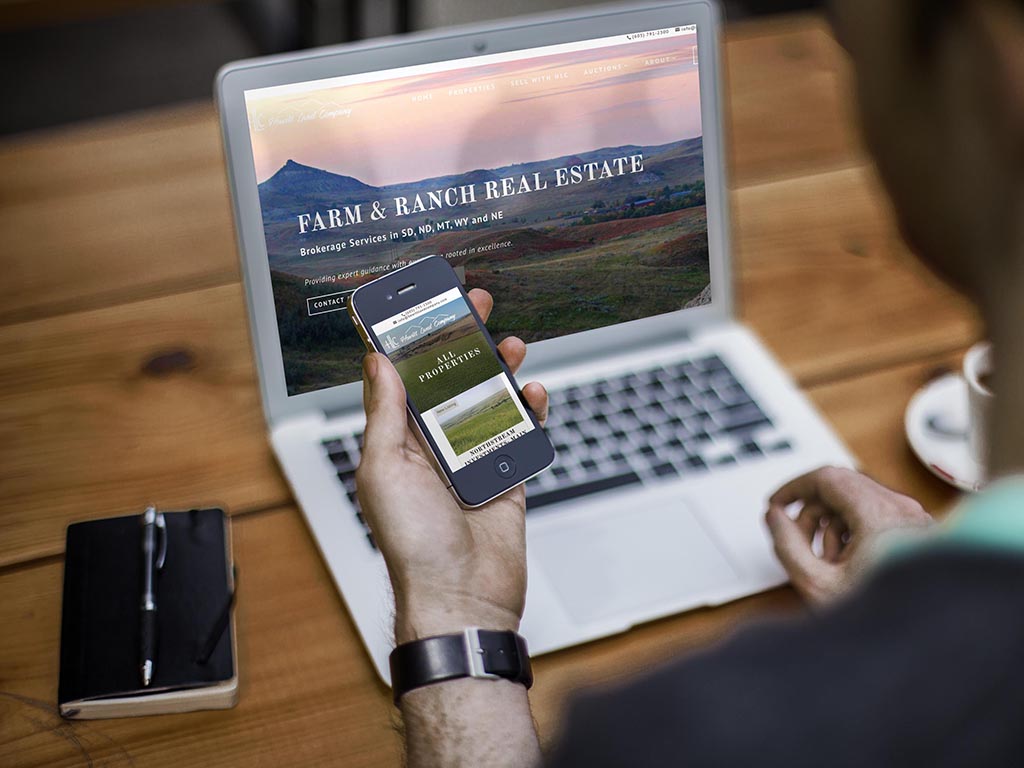 Ask a Question or Schedule a Visit
The information provided by Hewitt Land Company has been obtained from sources deemed to be reliable, but is not guaranteed or warranted by Hewitt Land Company or the sellers of these properties. It is the responsibility of the prospective buyer to independently confirm the accuracy and completeness of this information. Prospective buyers and advisors are encouraged to do their own due diligence in regard to tax, financial and legal matters, and to determine the suitability of a specific property to the buyer's needs. This offering is subject to errors, omissions, prior sale, price change, correction or withdrawal from the market without notice. All references are approximate. Any projections, opinions, assumptions, or estimates used are for example only and do not represent the current or future performance of the property. Sellers reserve the right to accept or reject any and all offers without liability to any buyer or cooperating broker. Fences may or may not be located along property borders.