The Lame Johnny Creek Farm is predominantly utilized in crop production. With sub-irrigation from the famed Lame Johnny Creek and highly productive soils, the results are highly impressive. Crop production indexes are mainly in the mid 80's with the Nunn Loam soils reaching 87. The farm has low over head improvements that are more than substantial. The 38' wide and 48' long shop is a well-built structure that is set on the southern end of the farm. The late model shop has full insulation and concrete flooring throughout. Also featured within the shop is a two room living area that would make the space double as a fantastic hunting headquarters. The hunting along the Lame Johnny Creek corridor is second to none. Trophy caliber white tail and mule deer are harvested often as well as an abundance of upland water foul, turkey, pheasant, grouse, coyote, and more. Serene living in a beautiful area on the prairie and within an hours drive of Rapid City, this versatile property is a standout in any market.
Location & Directions
Property Location: Buffalo Gap, South Dakota. Property is located approximately 42.5 miles southeast of Rapid City, South Dakota, approximately 12 miles south of Fairburn, South Dakota, and 5 3/4 miles NE of Buffalo Gap.
Property Directions: From Buffalo Gap, County Rd 656 east ¼ mile. Turn north onto County Rd. 17. Travel north/northeast approximately 5 ½ miles to the north end of the property.  
Locale
The nearby small town of Buffalo Gap, population 139, is the closest community. Home to the Buffalo Gap National Grasslands, the area's surprising diversity of plants and animals is one of the most extensive, productive ecosystems in the United States. 
The community of Hot Springs, population 3,500, has been called "the Southern Gateway to the Black Hills" because of its native charm, temperate year-round weather, outdoor recreation, and easy access to local attractions. In addition to the hospitality industry, Hot Springs is home to the county seat, many local businesses, a K12 public school and private elementary school. Two universities are located within one hour's drive.
Regional flight service is available within a 45-minute drive at Rapid City, SD. Rapid City is the second largest city in South Dakota and offers all types of shopping, fine and casual dining, medical facilities and industry.
Today the Black Hills offers an inviting mix of recreational and cultural experiences and the area continues to be a destination of choice for tourists and retirees alike. As populations increase in the region, this property will be more conveniently-located than ever.
Hunting, fishing, boating, camping, golfing, and outdoor recreational opportunities abound in the Southern Black Hills area. Within a short drive, you can explore Custer State Park, one of the nation's premier state parks. Known for its bison herds and wildlife, it has even been named as one of the World's Top Ten Wildlife Destinations. Also nearby are the Mammoth Site of Hot Springs, Moccasin Springs Natural Mineral Spa, Evans Plunge Mineral Springs, Angostura Recreation Area, J.H. Keith Cascade Falls Picnic Area, Moccasin Springs and more!
The greater Black Hills region is a treasure-trove of not only natural beauty, but tourism as well, averaging 4 million visitors annually.
Ranked #1 by Forbes as the best state for business costs in 2019 (https://sdgoed.com/build-your-business/), South Dakota is a business-friendly environment that encourages a secure economy, room to innovate and a reliable workforce.
If you're looking for a spacious lifestyle with wide open spaces, plenty of room to breathe and the beautiful Black Hills landscape, this area is the perfect blend of serene privacy with amenities within reach.
TOPOGRAPHY
Slight rolling hills. Fresh water creek bottom.  
SOILS
Silty clay and loam soils.
Wildlife
Whitetail and Mule Deer. Turkey, grouse, pheasant, duck, geese, raccoon, badger, coyote. 
Operation
The Property is predominantly comprised of tillable acres and is currently planted to corn for the 2023 crop season. There is a functional pole barn/shop in the approximate center of the Property with an included but unfinished living space. Lame Johnny Creek flows through most of the Property with tree and brush cover scattered along the banks. This adds a formidable hunting component to the Property. Upon sale of the Farm, Sellers' late model equipment will be available for sale. 
Water
Water is supplied to the Property by a privately owned shallow well situated on the property.  
Utilities
Electric service is provided by Black Hills Electric Coop in Custer.

Fiberoptic communication is available to the property, provided by GoldenWest Telephone Cooperative.
Access
The Property is accessed
via Beaver Valley Road. A
well-maintained
county road.
Improvements
Shop – 38′ Wide 48' Long. Two
room
, 1 bath,
and loft
living quarters
(unfinished)
. Open faced livestock shed, 30' Wide and 120' Long.
Taxes
2022 Taxes were

$2,321.74.
Legal Description
Township 6 South Range 7 East Custer County, SD, BHM
Acres
 Sec. 13; NW4
160.00 
Sec. 12; SW4, W2NW4 & SE4NW4 280.00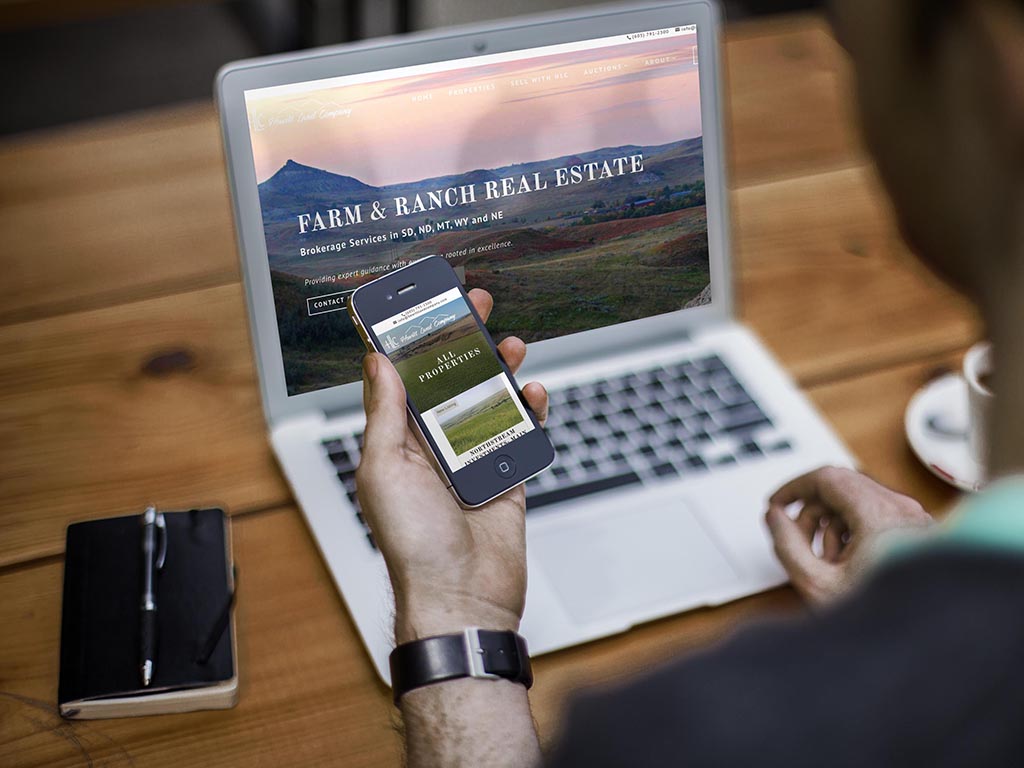 Ask a Question or Schedule a Visit
The information provided by Hewitt Land Company has been obtained from sources deemed to be reliable, but is not guaranteed or warranted by Hewitt Land Company or the sellers of these properties. It is the responsibility of the prospective buyer to independently confirm the accuracy and completeness of this information. Prospective buyers and advisors are encouraged to do their own due diligence in regard to tax, financial and legal matters, and to determine the suitability of a specific property to the buyer's needs. This offering is subject to errors, omissions, prior sale, price change, correction or withdrawal from the market without notice. All references are approximate. Any projections, opinions, assumptions, or estimates used are for example only and do not represent the current or future performance of the property. Sellers reserve the right to accept or reject any and all offers without liability to any buyer or cooperating broker. Fences may or may not be located along property borders.