Almon Adam Estate Auction
Live & Online: September 8, 2022 |  Gregory County, SD | 446 Acres
Gregory County, SD Land for Sale
Join us Live and Online for the ABSOLUTE Auction: Almon Adam Estate Real Estate, Thursday, September 8th, 2022, at 1:30 p.m. CT at the Wagner Theater, 218 S. Main Avenue, Wagner, SD.
The Almon Adam Estate is an absolutely stunning property in the Missouri River breaks. Lush grass, trees, and brush line the hills and draws that drain into Randall Creek as it traverses towards the Missouri River. If you are a hunter, livestock producer, or simply want to own beautiful property please make plans to check this fabulous property out.
The property sells as three tracts or as one entire unit. Broker participation invited. A 2.0% buyers' premium shall be added to the sale price.
For questions regarding the property or to schedule a visit, please contact Tanner Hewitt at (605) 490-7952.
Owner: Almon Adam Estate, PR: Robin Brooks
Location
The property is located at: 30208 Lodge Rd. Fairfax, SD 57335.
From the west: 6 miles east on Hwy 18 from junction Hwys 18 and 281, then south on County Road 56 (Randall Township Hwy).
From the east: 6 miles west on Hwy 18 from junction Hwys 18 and 46, then south on County Road 56 (Randall Township Hwy)
Access
The property has tremendous access just 1 mile off the highway along Randall Township Hwy and County Road 56. From the intersection of Hwy 18 and County Road 56, travel South on Randall Valley Rd. (County Rd. 56) approx. 1.25 miles to property.
Tracts
Tract 1: Tract 1 is comprised of 191.5 +/- acres and is accessed via Randall Township Highway and County Road 56. Approximately 65 acres of this tract are currently utilized in hay production yielding around 2 ton per acre on the average year. The remaining 126.5 acres are pasture ground. There would be multiple building sites on this tract with beautiful vantage points or nestled in the seclusion of the forest. With the Randall Creek bottom, rolling hill terrain, lots of mature trees, and good access, this tract is a definite eye catcher.
Tract 2: Tract 2 is comprised of 62 +/- acres lying on the east side of Randall Township Highway for ¼ mile. The old home site sits in an elevated yet reserved position in the northwest corner of this tract. Leaving the rest of the property to the south and east away from public interaction with open parks and heavily timbered draws. This tract would be no exception when it comes to premium hunting advantages whether it be game birds, turkey, or whitetail.
Tract 3: Tract 3 is comprised of 192.5 +/- acres that borders the Randall Township Highway for ¼ mile. There is a home site along the road along with old barn. This tract is a sprawling 192.5 acres of heavy timber ranging from mature deciduous trees to cedars. The tract begins with the Randall Creek traversing along the eastern edge and then climbs in elevation to the west opening up to beautiful open and grassy meadows and brushy draws.
Water
There is an existing Tripp County Rural Water tap on Tract 1. In the event that Tract 1 sells separately from Tracts 2 and 3, the Buyers of Tracts 2 and 3 will be subject to application for a water tap to the Tripp County Water District.
Showing Dates
Showing Dates: Wednesday, August 10, 1:00 to 3:00; Friday, August 19, 10:00 to 1:00; Tuesday, August 30, 1:00 to 3:00; Auction Day, Thursday September 8, 10:00 to 12:00.
Terms & Conditions
TERMS AND CONDITIONS: 
Bidding by Online and Live Auction
Property sells Absolute, without minimum or reserve bid. Successful bidders shall enter into a purchase agreement and deposit 15% nonrefundable earnest money with the balance due in certified funds upon closing, on or before October 27th, 2022. Property will be sold without buyer contingency of any kind. Have financial arrangements secured prior to bidding. Property sold by legal description only. Any survey required shall be at the expense of the buyer.   All information has been derived from sources deemed reliable; however, neither Seller nor the Auctioneers/Brokers are making any guarantees or warranties, actual or implied. Property selling "As-is where is". Inspect to the extent deemed necessary both on and off premises and use your own judgement when bidding. Portions of the property may be located within a flood hazard area. Announcements made at auction take precedence over any prior printed or oral representations.
Possession: Hunting rights are available after closing; there is a tenant in place until the first of the year. Full possession will be granted January 1, 2023.
Title: Marketable title will be transferred by Warranty Deed, subject to easements, restrictions, covenants and/or reservations of record. A title insurance policy will be provided by Seller and is available for your inspection prior to the auction.
Taxes: Seller will pay 2022 Taxes based on the most current tax levy available.
Representation: Hewitt Land Company Represents the Sellers in this Transaction. Broker Participation is invited, (form and deadline required).
Buyers' Premium: A 2.0% buyers' premium shall be added to the sale price to arrive at the final Contract Price.
Owner: Almon Adam Estate, PR: Robin Brooks
Online & Phone Bids: Registrations for online bidders and Buyer's Agents must be completed no later than 10 a.m. on 9/7. Phone bids will also be accepted; to make arrangements, call Tanner Hewitt 605-490-7952 or Tyson Hewitt 605-206-0034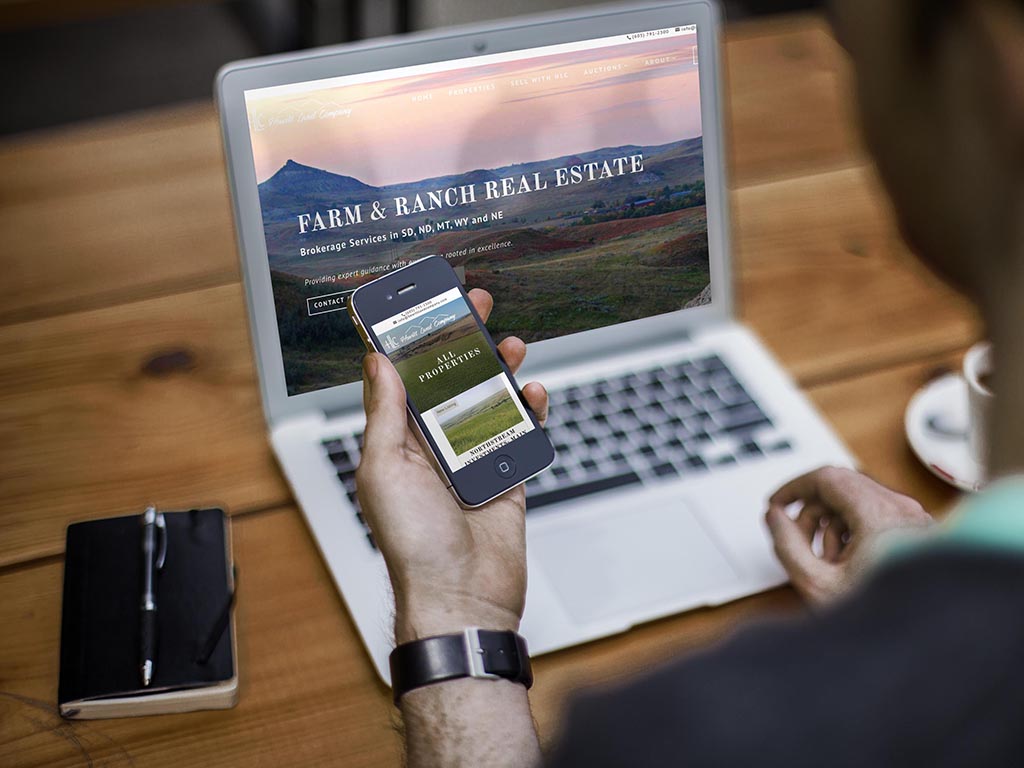 Contact Us
Tanner Hewitt, Broker Associate: Rapid City, SD Office, (605) 490-7952
Tyson Hewitt, Broker Associate: Rapid City, SD Office, (605) 206-0034
Ask a Question or Schedule a Visit
The information provided by Hewitt Land Company has been obtained from sources deemed to be reliable, but is not guaranteed or warranted by Hewitt Land Company or the sellers of these properties. It is the responsibility of the prospective buyer to independently confirm the accuracy and completeness of this information. Prospective buyers and advisors are encouraged to do their own due diligence in regard to tax, financial and legal matters, and to determine the suitability of a specific property to the buyer's needs. This offering is subject to errors, omissions, prior sale, price change, correction or withdrawal from the market without notice. All references are approximate. Any projections, opinions, assumptions, or estimates used are for example only and do not represent the current or future performance of the property. Sellers reserve the right to accept or reject any and all offers without liability to any buyer or cooperating broker. Fences may or may not be located along property borders.