Live & Online: September 14, 2022 at 1:30 p.m. MT | Butte County, SD | 5,142 Total Acres
Butte County, SD Land for Sale
MUD BUTTE, SD | 5,142 TOTAL ACRES
Consisting of 2,520 Deeded Acres, 1,982+/- Hay Creek Grazing Assn., 640 Acres SD School and Public Lands Lease.
Join us at the Floden Ranch Real Estate Auction, Wednesday, September 14th, 2022 at 1:30 p.m. MT at the Newell City Hall, Newell, SD. Offered as three individual tracts. Sells as high bidders choice. Broker participation invited.
The Floden Ranch lies in the northeast corner of Butte County, South Dakota and right in the heart of Grass country. It was founded in 1912 by Jens O. and Clara Floden and has never before been offered for sale. The variety of warm and cool season grasses along with the gradual rolling terrain, availability of well water, and great access provide a grazing opportunity that will put pounds on your livestock throughout the grazing season. If you are looking for a nice grazing property in a country with a consistent history of hard, pound producing grass please make plans to check the Floden Ranch out.
Owner: Shirley Floden, Karl Floden
For questions regarding the property or to schedule a visit, please contact Tyson Hewitt (605) 206-0034 or Tanner Hewitt at (605) 490-7952
Showing Dates: August 16, September 1, and September 9 from 1-3 p.m. MT
Water
The property includes four wells. Cottonwood, Fish Draw, Sweetwater, and Cabin Creek, all shallow, seasonal creeks, traverse various portions of the ranch.
Access
The access to the Floden Ranch is fabulous. 15 minutes off the pavement on maintained gravel roads yet not in a high traffic area.
From Hoover, SD: 1 mile north on hwy 79 then 14 miles East on Hoover Zeona Road.
From Mud Butte, SD: 10 miles north on Zeona Road then 5 miles West on Hoover Zeona Road.
Tracts
Tract 1: 800+/- acres of grass with the original building site. This tract is watered by 5 dams/dugouts and has one windmill which has been converted to electricity and 1 old well. A portion of Cottonwood Creek, a shallow, seasonal creek flows north through the northeast portion of the property. Access is provided by Cottonwood Township Road just off of the Hoover Zeona Rd.
Tract 2: 920 acres of grass with a couple open face sheds. Water is provided by 3 dams, 1 electric well, and 1 well on a pumpjack. Sweetwater Creek, a seasonal creek, winds its way through the north portion on its way to Fish Creek and the North Fork of Moreau River, providing pockets of livestock water and shade trees. This property borders Hoover Zeona Rd. For 1 mile.
Tract 3: 800+/- acres of excellent grass watered by 3 dams and a shared well. Cabin Creek makes its southward trek to the South Fork of the Moreau River providing occasional watering holes and a few trees. Also included in this tract is the grazing lease contract for 640 Acres of South Dakota School and Public Land, which expires in 2029. Tract 3 borders the Hoover Zeona Road for 2 miles.

Hay Creek Grazing Association:

offering one unit

in the Hay Creek Grazing Association (1,982+/- deeded and leased Acres) immediately following the real estate auction.
Legal Description
Township 14 North, Range 9 East, BHM, Butte County, South Dakota  
Section 21: E2SE4 – 80.00
Section 22: LOTS 1-8, E2NW4, SW4 – 560.00
Section 23: W2 – 320.00
Section 27: LOTS 1-8, W2 – 640.00
Section 28: E2NE4, NE4SE4 – 120.00
Section 34: NW4 – 160.00
Section 35: NW4 – 160.00
Total 2,520.00 $3,533.02 
Taxes
2021 taxes, payable in 2022, are $3,533.02.
Terms & Conditions
Property sells subject to seller confirmation. Successful bidders shall enter into a purchase agreement and deposit 10% nonrefundable earnest money with the balance due in certified funds upon closing, on or before November 15th, 2022. Any early closing will be upon mutual consent. Property will be sold without buyer contingency of any kind. Have financial arrangements secured prior to bidding. Deeded property sold by legal description only. Grazing Association shares transfer by assignment. Any survey required shall be at the expense of the buyer. All information has been derived from sources deemed reliable; however, neither Seller nor the Auctioneers/Brokers are making any guarantees or warranties, actual or implied. Property selling "As-is where is". Inspect to the extent deemed necessary both on and off premises and use your own judgement when bidding. Announcements made at auction take precedence over any prior printed or oral representations.
Possession: Full possession will be granted at closing.
Title: Marketable title will be transferred by Warranty Deed and Assignment, subject to easements, restrictions, covenants and/or reservations of record. A title insurance policy will be provided by Seller and is available for your inspection prior to the auction.
Taxes: Seller will pay 2022 Taxes based on the most current tax levy available.
Representation: Hewitt Land Company Represents the Sellers in this Transaction. Broker Participation is invited, (form and deadline required).
Owner: Karl & Shirley Floden
Online & Phone Bids: Registrations for online bidders, phone bidders, and Buyer's Agents must be completed no later than 10 a.m. on 9/13.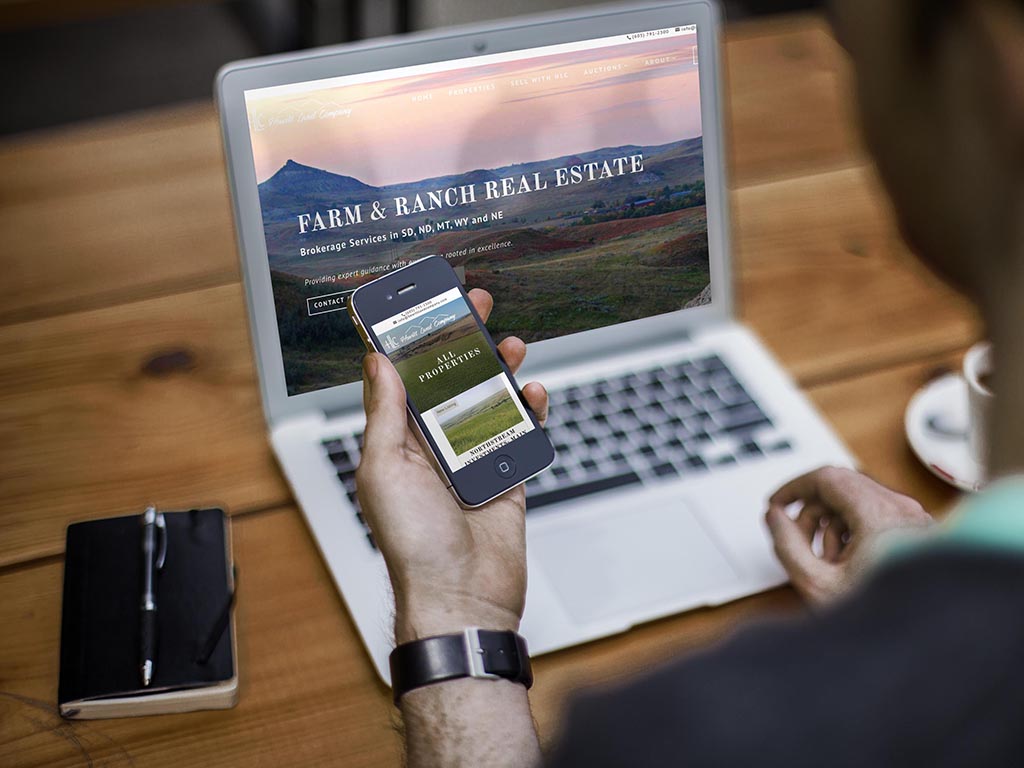 Contact Us
Tanner Hewitt, Broker Associate: Rapid City, SD Office, (605) 490-7952
Tyson Hewitt, Broker Associate: Rapid City, SD Office, (605) 206-0034
Ask a Question or Schedule a Visit
The information provided by Hewitt Land Company has been obtained from sources deemed to be reliable, but is not guaranteed or warranted by Hewitt Land Company or the sellers of these properties. It is the responsibility of the prospective buyer to independently confirm the accuracy and completeness of this information. Prospective buyers and advisors are encouraged to do their own due diligence in regard to tax, financial and legal matters, and to determine the suitability of a specific property to the buyer's needs. This offering is subject to errors, omissions, prior sale, price change, correction or withdrawal from the market without notice. All references are approximate. Any projections, opinions, assumptions, or estimates used are for example only and do not represent the current or future performance of the property. Sellers reserve the right to accept or reject any and all offers without liability to any buyer or cooperating broker. Fences may or may not be located along property borders.