Piedmont Valley Land Auction
ONLINE | Tuesday, December 13, 2022

10am to Thursday Dec. 15,

 5pm MST.

| Meade County, SD | 79.10 +/- Acres
ONLINE ONLY DUE TO WEATHER!
FOR MORE INFORMATION OR FOR HELP WITH REGISTERING TO BID PLEASE CONTACT:
TANNER HEWITT: (605) 490-7952 | TYSON HEWITT (605) 206-0034 | JD HEWITT: (605) 347-1100
ONLINE: Bidding open Tuesday, December 13, 2022 10am to Thursday Dec. 15, 5pm MST.
Piedmont, SD | 79.10 +/- ACRES
ONLINE | Tuesday, December 13, 2022 10am to Thursday Dec. 15, 5pm MST.
Property Location: From I-90 take Exit 44, East on Deerfield Rd. to Sidney Stage Rd. then North to property. 21746 Sidney Stage Rd, Piedmont, SD
This property has been owned and operated as a working ranch by the same family since the 70's and presents a unique opportunity to acquire sizable acreages in the highly desirable Piedmont Valley. Amazing Black Hills views, great access, and both Elk Creek and Little Elk Creek traverse the property!
Offered in 2 tracts and as one entire unit; consists of 79.10+/- Acres including 3008 sqft home, corrals, barns, sheds and private well. Elk Creek and Little Elk Creek both traverse this property! The property enjoys stunning 'front range' views, timber, and exceptional access and convenience!
TRACT 1: consisting of 39.1+/- acres, Elk Creek traverses this Tract! Access is provided by Sidney Stage Rd., (paved) on the west and dedicated public ROW (gravel) on the north and south. This is a remarkable property with 360` views, convenience, and privacy and lends itself to a variety of applications. Seller is retaining rights to the private well located on the property which will require platting approval prior to closing.
LOT 1 LESS ROW, SEC. 4, T3N, R6E, BHM, MEADE CO., SD
TRACT 2: The Homestead Tract, consisting of 40.0+/- acres, with a 3008 sqft 5 bed/ 3 bath home with attached garage, situated in privacy and seclusion. Mature pine, elm, russian olive, lilac and spruce trees grace the property. Outbuildings include a small barn, shop and shed. A private well provides domestic water and Little Elk Creek traverses the property!
SE1/4NE1/4 LESS ROW, SEC 4, T3N, R6E, BHM, MEADE CO., SD
ENTIRE UNIT: consists of 79.10+/- acres including a 3008 sqft 5 bed/3 bath home, corrals, barns, sheds and private well. Elk Creek and Little Elk Creek both traverse this property! The property enjoys stunning 'front range' views, timber, and exceptional access and convenience! Check out this remarkable opportunity to buy property in a sizeable tract.
The Property will be offered in individual Tracts and as One Entire Unit and will sell in the manner realizing the greatest return to the Seller.
Location
The Piedmont Valley Ranch is located at 21746 Sidney Stage Rd., near Piedmont, SD along Interstate 90, approximately 12 miles north of Rapid City, SD in Meade County.
The scenic Piedmont Valley stretches 25 miles between Rapid City and Sturgis. The towns of Piedmont, Summerset and Black Hawk are along the route, with Interstate 90 running through the Valley and the Black Hills National forest to the west.
Rich in history, the town of Piedmont dates back to 1890, with approximately 1,000 people residing in the immediate area. The town supports numerous small businesses in tourism, transportation, and construction. Piedmont boasts a highly rated Elementary School, and a newly-built Meade County middle school is just a few miles away. The area provides several churches and a vibrant community life.
Momentum is building for the growth and development of the Piedmont Valley.  Vision Piedmont is the official Economic Development Organization of Piedmont, SD.
Tourism abounds as the area is nestled in the Northern Black Hills region. Deadwood, SD is just 27 miles way, and Spearfish, SD just 33 miles away. Local resorts and campgrounds cater to vacationers, turkey hunters and outdoorsmen.
Natural history attractions are nearby, as the property lies only 2 miles from the Black Hills Petrified Forest and the geology-rich Little Elk Creek Canyon, and just over 5 miles from the Wonderland Cave.
The greater Black Hills region is a treasure-trove of not only natural beauty, but tourism as well, averaging 4 million visitors annually.
Ranked #1 by Forbes as the best state for business costs in 2019 (https://sdgoed.com/build-your-business/) , South Dakota is a business-friendly environment that encourages a secure economy, room to innovate and a reliable workforce.
Access & Directions
The property is accessed by Sidney Stage Rd., a well-maintained county gravel road, and is just one half mile off Interstate 90.
Daily traffic counts at I-90 Exit 44 in 2020 were 1,970.
Directions from Rapid City: Travel on I-90 W to Exit 44, Deerview Rd. Turn right onto 218th St/County Hwy Mc-4a/Deerview Rd, then turn left at the 1st cross street onto Sidney Stage Rd for 0.6 miles to 21746 Sidney Stage Rd.
Improvements
House– Main Level with Basement: 3,008 sqft, 1973
Garage: 624 sqft, 1973
Pole Building– Concrete Floor: 968 sqft, 1972
Steel Bin– Concrete Floor: 1972
Utility Shed– 20% Concrete Floor: 720 sqft, 1972
Utility Shed Open Faced Addition: 390 sqft, 1972
Farm Utility: 2016 sqft, 1980
Utilities
Water: The ranch includes two wells. The well located on tract 1 will be retained by seller, the well located on tract 2 will transfer with title.

Electricity: Service is provided by Black Hills Energy.
Taxes
The 2021 taxes for the Piedmont Valley Ranch were: $5,039.86 – Assessed as agricultural land.
Terms and conditions
Successful bidders shall deposit 10% nonrefundable earnest money with the balance due in certified funds upon closing, on or before January 20, 2023. Property sells without buyer contingency of any kind. Have financial arrangements secured prior to bidding.  The cost of required survey shall be divided equally between Buyer and Seller. Marketable title will be transferred by Warranty Deed, subject to easements, restrictions, covenants and/or reservations. The Seller is retaining all rights and interest in the existing well located on Tract 1, which will require platte approval by the appropriate governing authorities.  A commitment for title insurance will be available for inspection prior to the auction. All 2022 and prior years taxes will be paid by Seller. The 2023 real estate taxes will be the responsibility of the Buyer. Auctioneers, Brokers and their associated staff represent the Seller's interest in this transaction. All information has been derived from sources deemed reliable; however, neither Seller nor the Auctioneers/Brokers are making any representations or warranties, actual or implied. Property selling "As-is where is". Inspect to the extent deemed necessary both on and off premises and use your own judgement when bidding. Portions of the property may be located within a flood hazard area. Announcements made at auction take precedence over any prior printed or oral representations.
The property will be sold on a dollars per acre basis. Acreage figures are estimated based on information derived from mapping software and Meade County Equalization, however no warranties or representations are made by Auctioneers or Owners as to the accuracy thereof. Actual acreage figures may be adjusted upon survey results. No adjustments shall be made to sale prices.

Registrations for online bidders and Buyer's Agents must be completed no later than 10 a.m. December 12th.

Property sells subject to Seller confirmation and subject to Plat approval.

Owner: Peggy Creek Ranch, LLC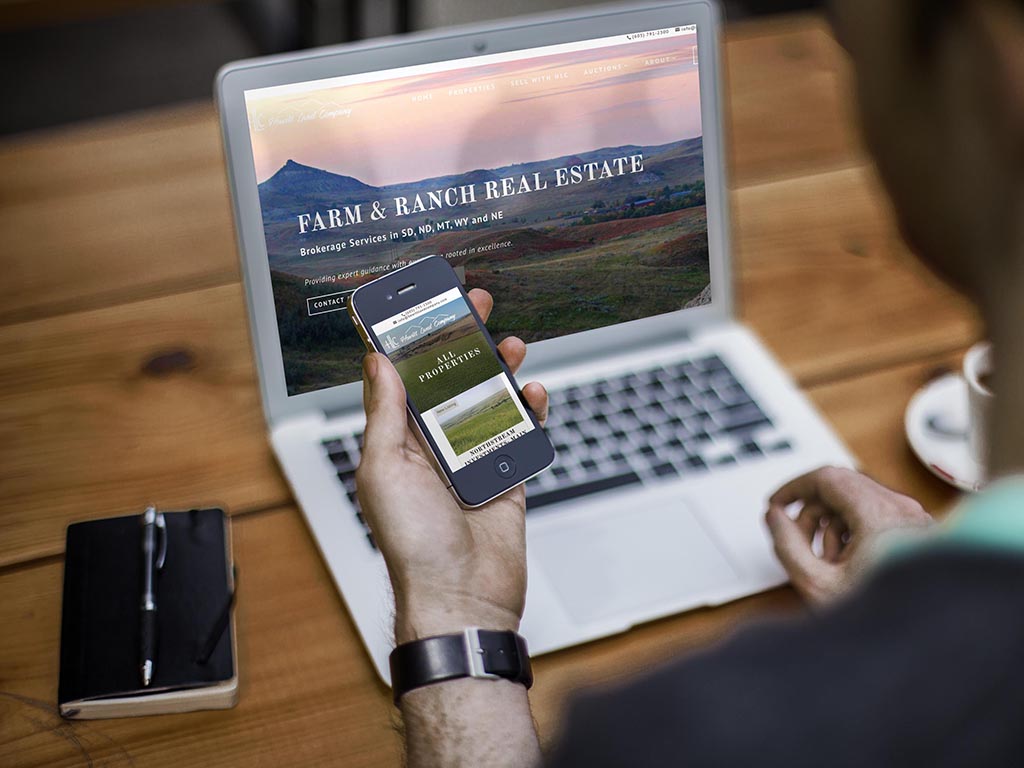 Ask a Question or Schedule a Visit
The information provided by Hewitt Land Company has been obtained from sources deemed to be reliable, but is not guaranteed or warranted by Hewitt Land Company or the sellers of these properties. It is the responsibility of the prospective buyer to independently confirm the accuracy and completeness of this information. Prospective buyers and advisors are encouraged to do their own due diligence in regard to tax, financial and legal matters, and to determine the suitability of a specific property to the buyer's needs. This offering is subject to errors, omissions, prior sale, price change, correction or withdrawal from the market without notice. All references are approximate. Any projections, opinions, assumptions, or estimates used are for example only and do not represent the current or future performance of the property. Sellers reserve the right to accept or reject any and all offers without liability to any buyer or cooperating broker. Fences may or may not be located along property borders.