Tatanka Spirit Ranch Real Estate Auction
ONLINE ONLY
Bidding opens november 30 and closes december 2, 2023
Auction Details and Property Description
TATANKA SPIRIT RANCH REAL ESTATE AUCTION | BIDDING OPENS NOVEMBER 30, 2023 | 10:00AM MT | BIDDING CLOSES DECEMBER 2. 2023 | 5:00PM MT
ONLINE ONLY! Register to bid online.
Showing dates: 11/8, 11/15 & 11/29 from 10:00AM-12:00PM MT
Executive Summary: Tatanka Spirit is situated on the eastern slopes of the great Black Hills joining the northern rim of the Buffalo Gap valley, this property is truly in a league of its own. From gently rolling grassland transitioning to timber covered ridges, the owner is afforded a variety of recreational enjoyment possibilities. It is not uncommon to see elk, deer, and turkey, all in the same visit. Immaculate custom Knecht design owner's cabin and guest lodge.
Contact:
JD Hewitt: (605) 347-1100
Tanner Hewitt:  (605) 490-7952 
Locale
The nearby small town of Buffalo Gap, population 139, is the closest community. Home to the Buffalo Gap National Grasslands, the area's surprising diversity of plants and animals is one of the most extensive, productive ecosystems in the United States.
Regional flight service is available within a 45-minute drive at Rapid City, SD. Rapid City is the second largest city in South Dakota and offers all types of shopping, fine and casual dining, medical facilities and industry.
Today the Black Hills offers an inviting mix of recreational and cultural experiences and the area continues to be a destination of choice for tourists and retirees alike. As populations increase in the region, this property will be more conveniently-located than ever.
Hunting, fishing, boating, camping, golfing, and outdoor recreational opportunities abound in the Southern Black Hills area. Within a short drive, you can explore Custer State Park, one of the nation's premier state parks. Known for its bison herds and wildlife, it has even been named as one of the World's Top Ten Wildlife Destinations. Also nearby are the Mammoth Site of Hot Springs, Moccasin Springs Natural Mineral Spa, Evans Plunge Mineral Springs, Angostura Recreation Area, J.H. Keith Cascade Falls Picnic Area, Moccasin Springs and more!
The greater Black Hills region is a treasure-trove of not only natural beauty, but tourism as well, averaging 4 million visitors annually.
Ranked #1 by Forbes as the best state for business costs in 2019 (https://sdgoed.com/build-your-business/), South Dakota is a business-friendly environment that encourages a secure economy, room to innovate and a reliable workforce.
If you're looking for a spacious lifestyle with wide open spaces, plenty of room to breathe and the beautiful Black Hills landscape, this area is the perfect blend of serene privacy with amenities within reach.
Location & Directions
Property Location: Buffalo Gap, South Dakota
Property Directions: From junction of Highway 79 and Tatanka Spirit Road, travel west approximately ¾ miles to the Northeast  
Tracts
Tract 1:
Consisting of 20+/- acres. Tract 1 has section line access off of Tatanka Spirit Road. This tract will own the existing private well, (subject to well share agreement) as well as a small utility building and camper hookups. With power and water already in place and end of the road access, this property is a certain eye catcher.
Tract 2: Consisting of 20+/- acres, Tract 2 is accessed via Tatanka Spirit Road. Tract 2 will be subject to an access easement for the existing asphalt driveway within the property. This tract has multiple building sites and usable area while still climbing well into the tree line. A well share agreement will be available with water being supplied by the private well located on Tract 1.
Tract 3: Consisting of 20+/- acres, Tract 3 is accessed off of Tatanka Spirit Road on the east side of the property. This tract will be subject to an access easement for the existing asphalt driveway going across the western side of the property. A well share agreement will be available with water being supplied by the private well located on Tract 1.
Tract 4: Tract 4 consists of 20+/- acres that are accessed via Tatanka Spirit Road on the east boundary of the property.This tract enjoys great access and multiple build sites with picturesque viewpoints. Tract 4 also borders the elk conservation property along with Tract 8 to the north. A well share agreement will be available with water being supplied by the private well located on Tract 1.
Tract 5: Consisting of 40+/- acres accessed via private drive provided through an access easement agreement. The tract 5 property enjoys elevated views with many open ridge tops and build sites that are easily accessed yet still offering private settings for the supreme experience.
Tract 6: Tract 6 offers 40+/- acres that are accessed by the private asphalt driveway. This property is comprised of challenging terrain with elevated peaks and deep ravines that are immersed in wildlife and game from turkey to elk on a regular basis.
Tract 7: Consisting of 40+/- acres. An extraordinary Tract with a stunning Knecht design home and loft cabin with a fully finished garage. The rustic charm yields to high end finishes throughout this remarkable property, making tract 7 the Capstone of Tatanka Spirit Ranch. Offered cooperatively with Troy Ward, REMAX Results.
Tract 8: Tract 8 is the crown jewel when it comes to a property sought after for the use of private hunting as well as a perfect homesite. This tract is comprised of 280 deeded acres, 230 of which are enrolled in a Conservation Easement with the Rocky Mountain Elk Foundation.
The property is teeming with game, with privacy and terrain to fit the outdoor enthusiast as well as provide the habitat necessary to hold trophy sized elk in high populations. The property has never been commercially hunted and has been expertly managed for the improvement of habitat. Tract 8 is accessed via Tatanka Spirit Road.
Existing conservation easement through Rocky Mountain Elk Foundation affecting approximately 230 acres. Copy available upon request.  
WILDLIFE
Elk, deer, antelope, grouse, turkey, coyote, mountain lion.
UTILITIES
Power provided by Black Hills Coop.
Taxes
The 2022 taxes for this *property were $7092.14 *Majority acres taxed as ag status. 
Terms & Conditions
Property sells subject to seller confirmation.  At the conclusion of the auction successful bidders shall enter into a purchase agreement and deposit 10% nonrefundable earnest money with the balance due in certified funds upon closing, on or before January 25, 2024. Any early closing will be upon mutual consent. Property will be sold without buyer contingency of any kind. Have financial arrangements secured prior to bidding. Deeded property sold by legal description only.  Any survey required shall be at the expense of the buyer. The fencing may or may not follow property boundaries and portions of the property are not fenced. Any required fencing shall be the responsibility of the Buyers in accordance with SD Staute.  All information has been derived from sources deemed reliable; however, neither Seller nor the Auctioneers/Brokers are making any guarantees or warranties, actual or implied. Property selling "As-is where is". Inspect to the extent deemed necessary both on and off premises and use your own judgement when bidding. Announcements made at auction take precedence over any prior printed or oral representations.   
Possession: Immediate possession of property available at closing or by arrangement following auction. 
Title: Marketable title will be transferred by Warranty Deed and Assignment, subject to easements, restrictions, covenants and/or reservations of record. A title insurance policy will be provided by Seller and is available for your inspection prior to the auction.   
Taxes: The 2023 taxes shall be pro-rated to the date of closing. The 2024 taxes shall be the responsibility of the Purchaser. 
Legal Description
Township 6 South Range 6 East,
Custer County, South Dakota
Tract 1: T6S R6E SECTION 13; S2SE4NE4
Tract 2: T6S R6E SECTION 13; N2SE4NE4 
Tract 3: T6S R6E SECTION 13; S2NE4NE4 
Tract 4: T6S R6E SECTION 13; N2NE4NE4 
Tract 5: T6S R6E SECTION 13; NW4NE4 
Tract 6: T6S R6E SECTION 13; SW4NE4 
Tract 7: T6S R6E SECTION 13;​ NE4NW4
Tract 8: T6S R6E SECTION 12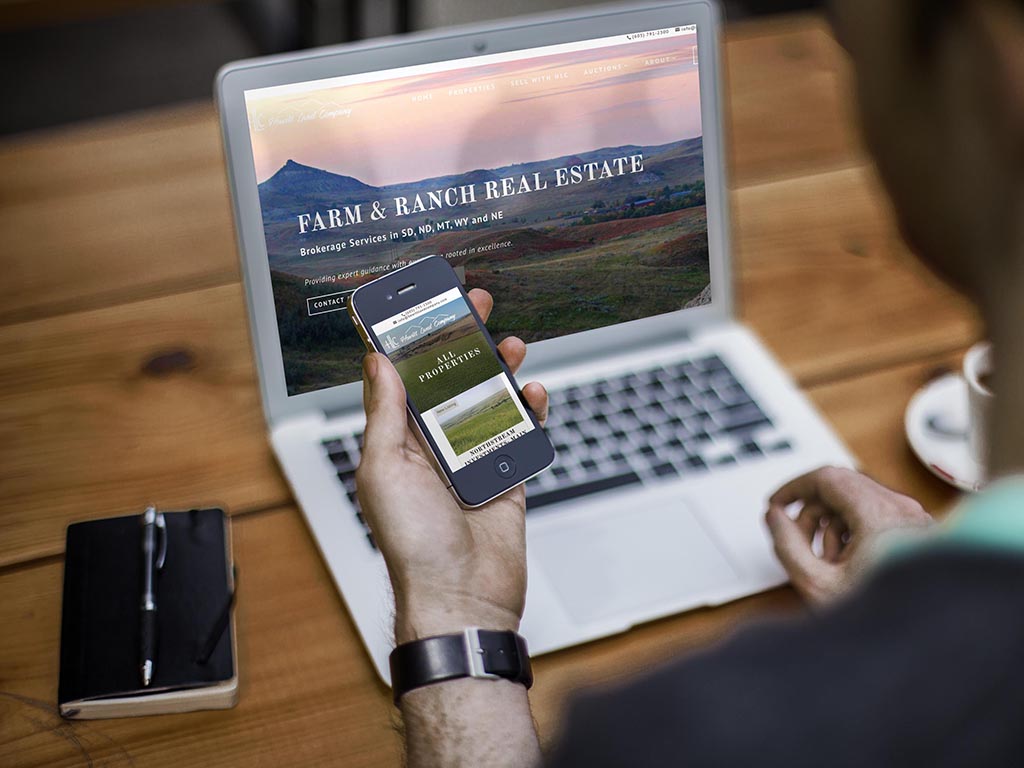 Ask a Question or Schedule a Visit
The information provided by Hewitt Land Company has been obtained from sources deemed to be reliable, but is not guaranteed or warranted by Hewitt Land Company or the sellers of these properties. It is the responsibility of the prospective buyer to independently confirm the accuracy and completeness of this information. Prospective buyers and advisors are encouraged to do their own due diligence in regard to tax, financial and legal matters, and to determine the suitability of a specific property to the buyer's needs. This offering is subject to errors, omissions, prior sale, price change, correction or withdrawal from the market without notice. All references are approximate. Any projections, opinions, assumptions, or estimates used are for example only and do not represent the current or future performance of the property. Sellers reserve the right to accept or reject any and all offers without liability to any buyer or cooperating broker. Fences may or may not be located along property borders.