Executive Summary: The Cross Ranch has been held in the same family for two generations and for the first time in over 50 years it is now being offered for sale! 194+/- acres all contiguous with over a quarter mile of Fort Meade Way road frontage. The ranch includes a modest set of outbuildings, which include, a pole barn Shop (90'x30') built in 1981, livestock barn (80'x24') built in 1920, and an equipment storage pole barn style building (40'x40') built in 2007. The ranch also enjoys three separate livestock dams and a seasonal spring. An offering of this size in this area is rare to the market and will not last long! Recent operation includes livestock grazing and hay production.  
Location & Directions
Property Location: 13151 207
th
St Sturgis, SD 57785
Property Directions from Sturgis: Take Hwy 34 West to Fort Meade Way. Turn right and head South on Fort Meade Way until 207th St, take a left and follow until the first road on your right. Turn and follow road into the property.  
Locale
The town of Sturgis, home to around 7,000 residents, is located on I-90 at Exits 30 and 32 in the Northern Black Hills. As the Meade county seat, the town represents a vibrant community, with a thriving agriculture-based local economy, expanding residential sector, and increasing commercial opportunities.
Founded in 1878, the town is named after Civil War general Samuel D. Sturgis and has a rich history. Fort Meade, a 19th-century military outpost, and the Old Fort Meade Museum are just east of Sturgis. To the south, Black Hills National Forest has rugged mountains, canyons and trails.
Area attractions include the Sturgis Motorcycle Rally, Black Hills National Cemetery, Bear Butte State Park, Fort Meade Cavalry Museum, Sturgis Motorcycle Museum & Hall of Fame and Wonderland Cave. Enjoy the local public golf course and scenic drives through Vanocker Canyon or Boulder Canyon.
Regional services such as medical, commercial airline services, financial and legal, retail shopping, entertainment and higher education opportunity are all available in the surrounding communities of Rapid City and Spearfish.
The Black Hills area offers an inviting mix of recreational and cultural experiences and the area continues to be a destination of choice for tourists and retirees alike. As populations increase in the region, this property will be more conveniently-located than ever, averaging 4 million+ visitors annually.
Rapid City, 50 miles south, is the second largest city in South Dakota and offers all types of shopping, fine and casual dining, medical facilities and industry. Regional flight service is available at the Rapid City Regional Airport.
In the nearby Black Hills area, countless recreational activities are available, including Mount Rushmore, Rushmore Cave, Custer State Park, natural hot springs, abundant wildlife in the Black Hills, fossil hunting, and rich history of the Native American Sioux Tribe.
SOILS
Kyle and Pierre Clay, and Silty Loams 
Wildlife
Deer, antelope, turkey, pheasant, grouse
Operation
Livestock, and forage production 
Improvements
Outbuildings: 
Shop: 90'x30' built in 1981 
Barn: 80'x24' built in 1920 
Pole Shed: 40'x40' built in 2007 
Dwelling: Uninhabitable
Lease
Hay crop will be put up on a 60/40 share deal with the neighbor for the 2023 season.
Taxes
2022 Taxes were $1,777.76
Legal Description
Township 5 North, Range 6 East, BHM, Meade County, South Dakota
Section 17: W1/2NW1/4SW1/4, NE1/4NW1/4SW1/4, NE1/4SW1/4, 
SE1/4NW1/4, SW1/4NE1/4, TRACT OF SE1/4NE1/4, NW1/4SE1/4 
Consisting of 194.64+/- acres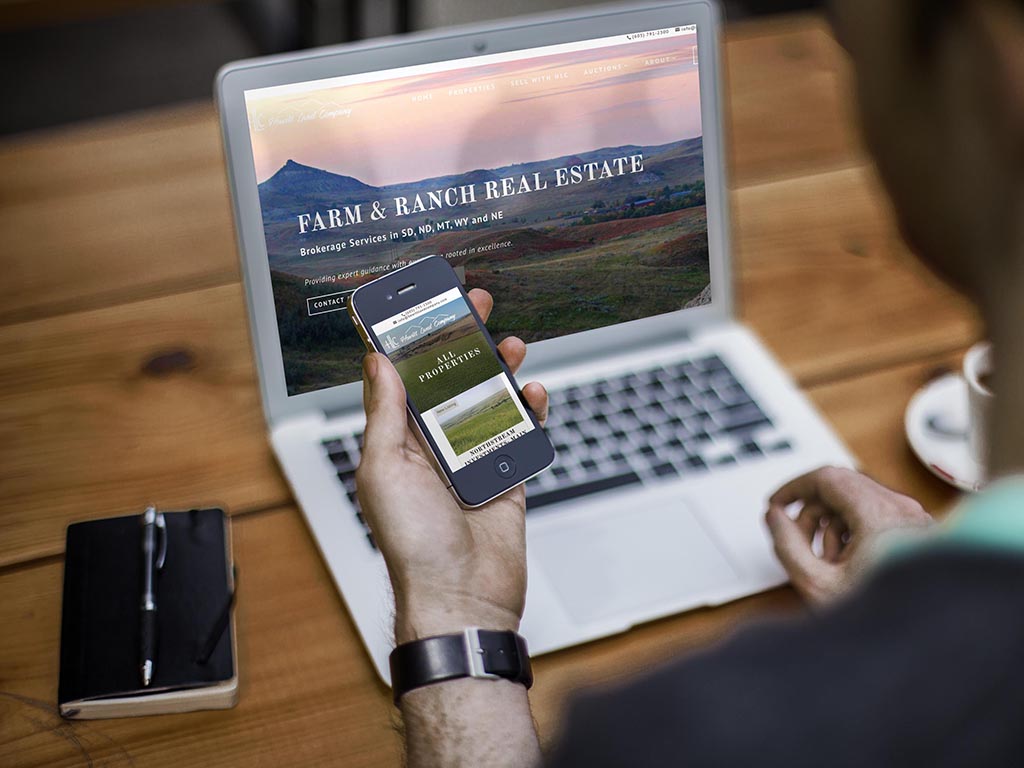 Ask a Question or Schedule a Visit
The information provided by Hewitt Land Company has been obtained from sources deemed to be reliable, but is not guaranteed or warranted by Hewitt Land Company or the sellers of these properties. It is the responsibility of the prospective buyer to independently confirm the accuracy and completeness of this information. Prospective buyers and advisors are encouraged to do their own due diligence in regard to tax, financial and legal matters, and to determine the suitability of a specific property to the buyer's needs. This offering is subject to errors, omissions, prior sale, price change, correction or withdrawal from the market without notice. All references are approximate. Any projections, opinions, assumptions, or estimates used are for example only and do not represent the current or future performance of the property. Sellers reserve the right to accept or reject any and all offers without liability to any buyer or cooperating broker. Fences may or may not be located along property borders.