Executive Summary: Gorgeous 5 acre property with rock outcroppings, timber and fronted by a large, beautiful meadow. New construction 4,480 sq ft custom home in process. Jump in and make your own mark on this amazing Black Hills gem! Motivated sellers!
Listed in conjunction with Amanda Carlin, Keller Williams Black Hills Realty.
Location & Directions
Property Location: 25809 Sidney Trail, Custer, SD 57730 
Property Directions: From Custer head south on Highway 385 approximately 7 miles. Turn west onto Sidney Trail, property will be on the west side of the road.  
From Pringle head north on Highway 385 approximately 4 miles. Turn west onto Nihart Road, then north onto Sidney Trail, property will be on the west side of the road.  
Locale
Just 7 miles north of the property, Custer has a family-friendly atmosphere with a variety of amenities such as a hospital, schools, grocery stores, specialty shops, as well as casual and fine dining options.  
Custer is famous for the Black Hills Gold Rush, which was started by the discovery of gold east of Custer. The discovery was made during the Black Hills Expedition, which was led by Lt. Colonel George Armstrong Custer.  
Custer is the largest town on the western border of the remarkable Custer State Park, South Dakota's largest and first state park and serves as a wildlife reserve in the Black Hills. The park is home to nearly 1,300 bison, along with pronghorn antelope, elk, mountain goats, and a band of burros. There are many outdoor activity and recreation opportunities in and around Custer such as: hiking, biking, fishing, kayaking, rock climbing, hunting, etc.  
Regional flight service is available within a 58-mile drive to Rapid City. Rapid City Regional is served by Delta Air Lines, American Airlines and Allegient Air, serving over 85,000 travelers last year.  
Rapid City is the second largest city in South Dakota and offers all types of shopping, dining, medical facilities and industry. Today the Black Hills offers an inviting mix of recreational and cultural experiences, and the area continues to be a destination of choice for tourists and transplants alike. 
TOPOGRAPHY
The property encompasses both meadow land and timbered Black Hills property and is easily accessed. 
Wildlife
The area is replete with Elk, Deer, Turkey and a host of small game species.
Water
A private well has been drilled and will be ready for service.
Utilities
Electric is available through Black Hills Electric Cooperative. The current Owner leases propane tank to supply gas and telecommunications services are available through Golden West.
Access
Sidney Trail borders the property just off US Hwy 385. 
Improvements
The improvements begin with a completed 40×60 clear span pole building with steel siding and roof.
The property also includes a 4,480 sq ft custom home under construction. The existing home floorplans feature an open concept floor plan and a full walk-out. The main level plan features a vaulted great room, 15' to the peak with 12'6" sidewalls, and 6' windows on either side of the grand fireplace (woodburning) and covered patio. A large kitchen with butler's pantry, dining and sitting area round out the great room. The 3 bedrooms and 2 baths include a spacious primary with generous attached bath and walk in closet and direct access to the main floor laundry and 9' ceilings throughout. The 2nd and 3rd bedrooms are spacious with large closets and 9' ceilings. The planned attached garage offers an astounding 1,440 sq ft of heated space with 9'6" ceiling height and direct access to the lower level.  
The lower level is a blank slate with 9' ceilings and walks out to the meadow to the front of the property. The lower level is constructed of treated lumber and has been wrapped with rubber membrane and tyvek.  
Construction on the home will be weathered in with plumbing and electrical roughed in. Interior finishing will be left to the buyer.  
View current construction progress by clicking here.
Taxes
2022 Taxes $1,410.68 (subject to adjustment). 
Legal Description
SECTION 36, TOWNSHIP 4 SOUTH, RANGE 4 EAST, BHM, CUSTER COUNTY, SOUTH DAKOTA SIDNEY TRAIL SUB – LOT B OF TR 1-2 OF HES #53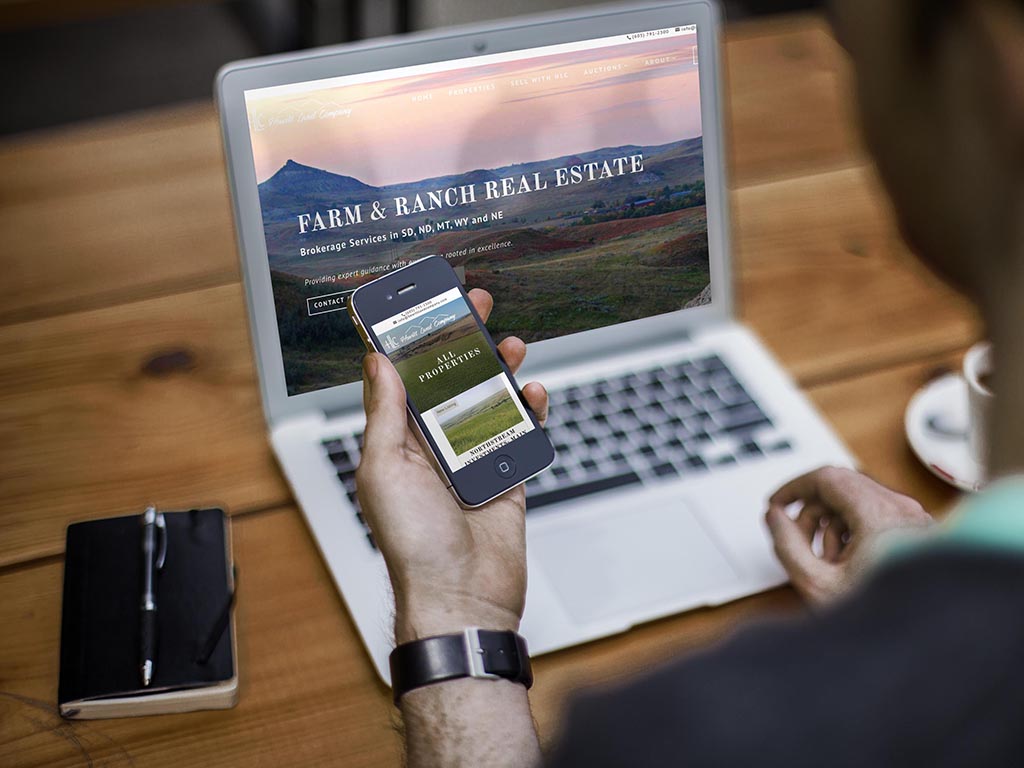 Ask a Question or Schedule a Visit
The information provided by Hewitt Land Company has been obtained from sources deemed to be reliable, but is not guaranteed or warranted by Hewitt Land Company or the sellers of these properties. It is the responsibility of the prospective buyer to independently confirm the accuracy and completeness of this information. Prospective buyers and advisors are encouraged to do their own due diligence in regard to tax, financial and legal matters, and to determine the suitability of a specific property to the buyer's needs. This offering is subject to errors, omissions, prior sale, price change, correction or withdrawal from the market without notice. All references are approximate. Any projections, opinions, assumptions, or estimates used are for example only and do not represent the current or future performance of the property. Sellers reserve the right to accept or reject any and all offers without liability to any buyer or cooperating broker. Fences may or may not be located along property borders.